Sidi Bouhlel: Overlooks
A Wretched Hive of Scum and Villainy
By Pamela Green
Photography by Gus Lopez
For these views, you will either have to scramble up the canyon wall, or else move your car closer to the marabout at the top of the canyon.
Location: 34° 01' 56" N, 8° 16' 58" E (using Magellan GPS Pioneer) Directions: From Tozeur, travel east towards Chott el Jerid. Right before you reach the chott, turn left (the sign says towards "DGHOUMES"). Continue on this road for 2.1 km, and then left on a dirt road. The canyon is at the foot of Sidi Bouhlel, just 1.6 km down this road. Sidi Bouhlel is a well-known marabout in the area. Be sure to lock your car door when you park.

This image was taken from the top on the canyon, near Sidi Bouhlel.
This is the same shot as when the Tusken Raiders first spot Luke's landspeeder coming into the canyon. (Just imagine a real cheesy special effects shot of Luke's speeder heading along the edge of the canyon.)
Now, the same shot courtesy of a Star Wars Widevision card...
Now, let's take the perspective up just a little....
...And voila! Here's the shot of Ben and Luke looking out over that wretched hive of scum and villainy, Mos Eisley. And you didn't even need to move your camera crew!
Guinness, Hamill, Daniels, and Baker actually stood on this ledge to capture this shot overlooking Mos Eisley spaceport.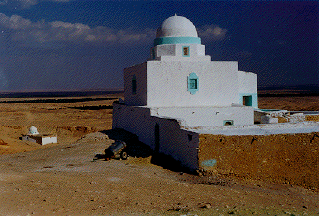 Here's what you really might see from the Mos Eisley overlook: this is a closeup shot of Sidi Bouhlel, the shrine for which this place is named.
Back to Sidi Bouhlel Index