Usually, before the folks at Kenner sculpted or patterned a toy, they'd produce a detailed, true-to-life concept painting of the product. Typically rendered at full scale, it was intended to demonstrate the look of the finished toy.

The piece you see here is the fully rendered concept painting of the AT-AT toy. According to owner Chris Fawcett, the artist who created it painted over an actual blueprint in order to ensure the utmost accuracy.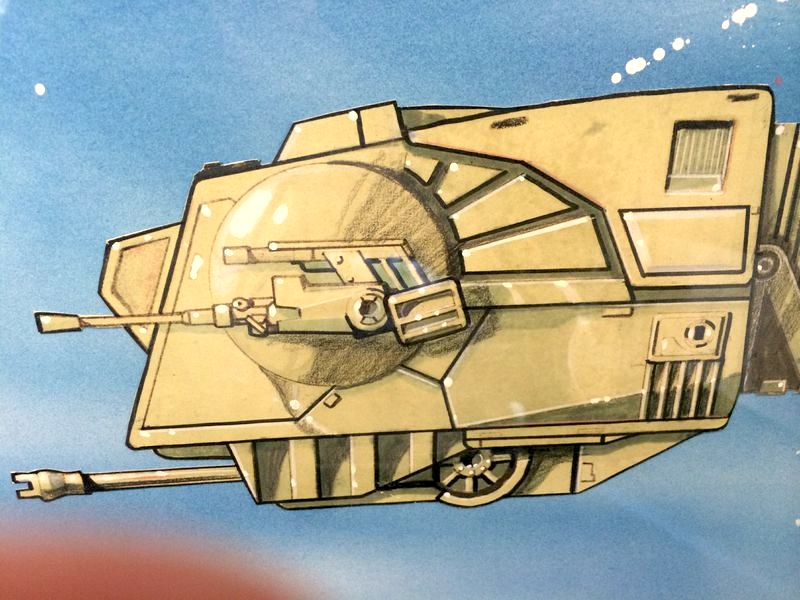 Here's a close-up of the head. As is typical of these concept paintings, the AT-AT portion was cut out and pasted onto the background.
When Chris acquired the piece, he was chuffed to discover that the creator had affixed a blueprint to the reverse. As it was obscured by the frame's backing, this came as a surprise.
Any way you look at it, this painting is a great piece of history related to one of Kenner's most iconic action figure toys. If you'd like to hear more about the painting's history, have a listen to SWCA Podcast #56, in which Chris regales Skye and Steve with a story related to its discovery.
Just for the proverbial esses and gees, here's an image of an even earlier piece of AT-AT conceptual art, which recently surfaced on a slide obtained by an anonymous friend of mine. It's dated 1979, and it likely represents Kenner's first serious consideration of an AT-AT action figure toy. It doesn't look a whole lot like the finished product because, well, the toy hadn't been designed at that point. Hopefully, the actual art will be discovered someday. Thanks to Mike Ritter and his brother Pete for scanning the source slide.