Unproduced Micro Collection Slave 1 Concept Prototype: This really has to be one of the neatest pieces I've seen in awhile. It's a completely hand-made prototype for a Slave 1 Micro Collection vehicle-- a toy that was never produced for the Micro line.
Those familiar with the Micro line know that it included three small-scale vehicles: a TIE Fighter, an X-Wing Fighter and a Snowspeeder. In terms of features, they were all more or less the same: they came with one or two pilot figures, as well as a neat "battle damage" feature that allowed the toys to be easily burst apart and reassembled at the push of a button. This prototype indicates that the Slave 1 Micro toy would have been similar had it been produced.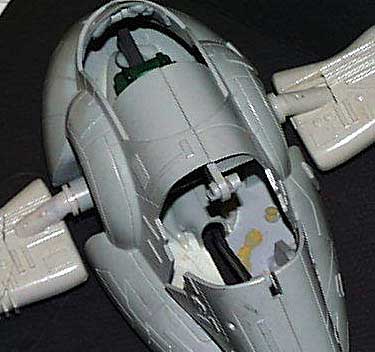 Here's a shot of the hull, which, as you can see, is capable of breaking apart. I'm not sure if this is intended to be part of the "battle damage" feature or simply to reveal the interior for added play value.
Here are two shots of the cockpit, both of which show the standard Micro Fett figure nestled in the pilot's seat. Apparently, this seat fits the figure perfectly. It's even hollowed out in one area to accomodate the backpack.
Here you see the bottom of the toy with all its little hand-applied details. You can also make out a type of lever near its base, which can be used to move the tail guns. Beside that you see a sliding hatch, much like the one featured on the larger Slave 1 toy.
As you can see from these photos, one of the side flaps on this prototype is jointed so that it can fold through its middle. Presumably, this was meant as part of the toy's "battle damage" feature.
The folding flap action is controlled via a slide mechanism located on the bottom of the flap.
Lastly we have a close-up shot, showing some of the inscribed lines and applied detail that went into building this prototype. Keep in mind that this entire thing was hand-made.

Unfortunately, the Micro line was cancelled and the world never saw the release of a Slave 1 Micro Collection vehicle. Nevertheless,it's tempting to imagine what the production toy would have looked like.

Description: Ron Salvatore
Photo: Anonymous
From the collection of Anonymous